#AceFinanceReport – May.01: RBS branches in England and Wales, and the NatWest business in Scotland, had been earmarked for a new "challenger bank" under the name Williams & Glyn…………However, that project is now not going ahead and the bank has reviewed its branch network…………..Some 109 branches will close in late July and August 2018, while a further 53 branches will close in November 2018: The latest branch closures follow existing plans to close 52 bank branches in Scotland that serve rural communities, and 197 NatWest branches………..The Unite union has calculated that in the case of 71 of the 162 branches closing, customers will be forced to make return journeys of about 25 miles to reach another one………. Rob MacGregor, Unite's national officer, said: "The Williams & Glyn saga rolls on as Royal Bank of Scotland continues with its shambolically poor management of this business. #AceFinanceDesk reports
You can see a full list of the branches that will be closing here.
An RBS spokesman said: "We are no longer launching Williams & Glyn as a challenger bank, and we now have two branch networks operating in close proximity to each other; NatWest and Royal Bank of Scotland, in England and Wales:
"As a result, we have had to review our overall branch footprint in England and Wales and we've made the difficult decision to close a number of Royal Bank of Scotland branches.
"Customers of Royal Bank of Scotland in England & Wales will be able to use NatWest branches instead for their everyday banking needs."
'Dark futures'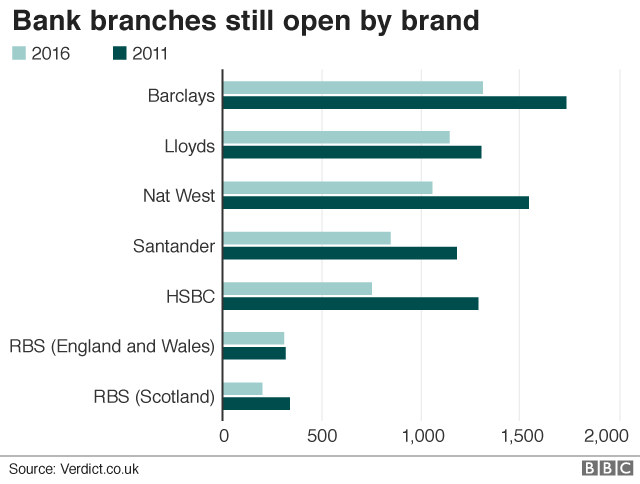 "How does a taxpayer-funded institution spend £1.8bn on a failed IT project and in the next breath demolish the much-needed local bank branches?
"Today nearly 1,000 employees have finally been told of their dark futures because the bank has been calamitously managed for too long."
In February, following a campaign by local communities, RBS decided to keep 10 branches threatened with closure open till the end of the year.
Nicky Morgan, who chairs Parliament's Treasury Committee, said there was "a risk of increased levels of financial exclusion" as a result of the branch closures, since bank branches were still vital for many people.
"It's important for the government to monitor this trend. If financial exclusion is increasing, the government may be required to intervene," she said.

Analysis: Simon Gompertz, personal finance correspondent
Staff were braced for something like this, though the scale of the closures and job losses is a shock.
Last year the European Commission said RBS could forget about trying to hive off part of its business and, instead, set up a fund to support new rivals.
Ever since then the writing was on the wall for most of the people and branches which RBS had shoved into Williams & Glyn, a Frankenstein bank which no one seemed to want.
That was the trigger, but it's also a fact that big banks have been looking for excuses to close as many branches as they can.
And they would have you believe it is partly your fault, if you've joined the legions who bank on computers and mobile phones.
For customers wondering where it will all end, it seems inevitable that we will end up with even fewer branches.
Those that survive may be dedicated to selling complicated products like investments and pensions, and sorting out tricky complaints.

Mobile banks
Unite is calling on RBS "not to abandon their responsibilities" to the communities that depend on the affected bank branches.
RBS chief executive Ross McEwan recently defended the bank's closure of its Scottish branches, saying that mobile banks are serving 440 communities.
However, the bank has faced criticism from customers that the mobile banks do not stop in each location for long enough.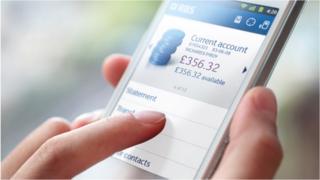 RBSRBS has promoted online banking and its mobile banking app as an alternative to going into branches
RBS has also tried to persuade customers to start using online banking and its companion smartphone mobile banking app.
But the bank has had to recognise that not everyone wants to handle their banking digitally.
To this end, today it announced that it had created a special taskforce to help customers learn digital skills so they could use online banking in future.
Royal Bank of Scotland is to close 162 branches in England and Wales, resulting in nearly 800 job losses https://bbc.in/2rdPl8s
Editor says #AceNewsDesk reports & #Brittius says are provided by Sterling Publishing & Media News and all our posts, links can be found at here Live Feeds https://acetwitternews.wordpress.com/ Ace News Services Posts https://t.me/acenewsdaily and thanks for following as always appreciate every like, reblog or retweet and free help and guidance tips on your PC software or need help & guidance from our experts AcePCHelp.WordPress.Com or you can follow our breaking news posts on AceBreakingNews.WordPress.Com or become a member on Telegram https://t.me/acebreakingnews all private chat messaging on here https://t.me/sharingandcaring