#AceFinanceNews – Nov.09: Market Turmoil Eases as Investors Weigh Trump's Plan for Economy
// Bloomberg.com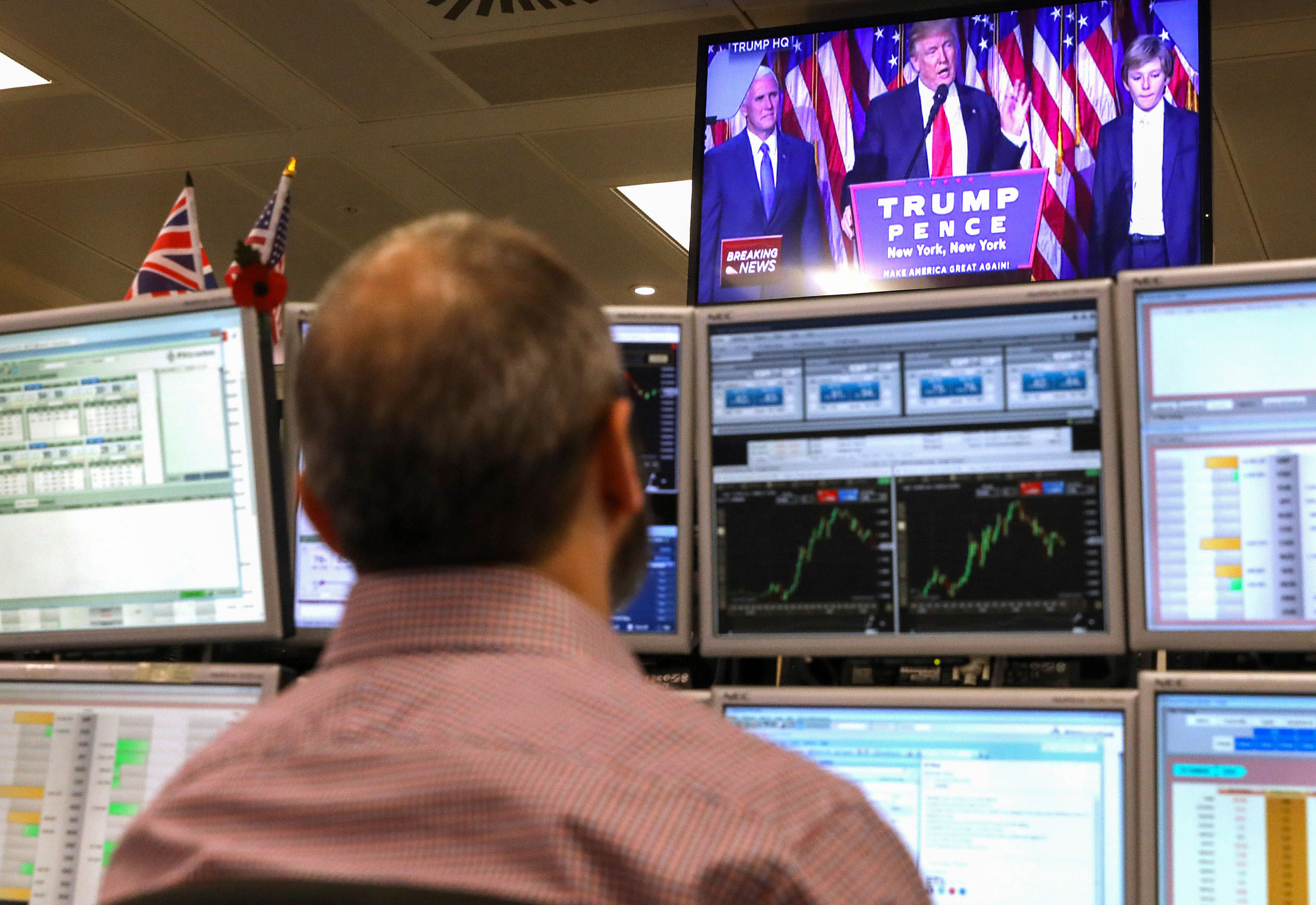 Turbulence in financial markets calmed after a knee-jerk selloff in stocks and rally in haven assets as investors reassessed the effects of Donald Trump's surprise victory in the American presidential election.
Following a plunge in equity futures overnight, the S&P 500 Index erased losses as health-care and bank shares rallied. Longer-dated Treasuries tumbled amid bets the Republican will ramp up spending to boost the economy, while two-year notes climbed as wagers on a Federal Reserve hike waned. Mexico's peso sank on prospects the integration with the U.S. will unravel, while Russian shares bucked a rout in emerging markets on speculation Trump will mend ties with Moscow. Gold and the yen climbed.
"It's an amazingly impressive recovery off the lows for risk assets," said Craig Collins, managing director of rates trading at Bank of Montreal in London. "It's very surprising given the feel the session had to start with, that it was a massive risk-off flight to quality bid. Now the early losses are getting erased and it looks like it could go unchanged on the day by the time the U.S. gets in."
A Trump victory had been portrayed by analysts as having the potential to unhinge markets banking on a continuation of policies that coincided with the second-longest bull market in S&P 500 history. Going into the vote, most polls showed Democratic candidate Hillary Clinton ahead. Trump has pledged to clamp down on immigration to the U.S. and renegotiate free-trade agreements with countries including Mexico. In his victory speech, he pledged to focus on rebuilding U.S. infrastructure.
Stocks
U.S. stocks fluctuated as speculation Trump will pursue business-friendly policies offset some of the broader uncertainty surrounding his ascent. The S&P 500 rose 0.1 percent to 2,141.33 at 11:09 a.m. in New York, after falling as much as 0.6 percent.
"Markets generally don't like one party to have complete control," said Michael Antonelli, an institutional equity sales trader and managing director at Robert W. Baird & Co. in Milwaukee. "The Republicans have been a market-friendly party. I think part of the reason the market rallied is because it looks like they're going to take all three. But Trump is this big question mark."
Health-care shares surged as investors unwound bets that a win by Hillary Clinton would bring intense regulatory scrutiny. The SPDR S&P Biotech exchange-traded fund surged 7.2 percent for the biggest gain in a year. An ETF tracking biotech shares in the Nasdaq Composite Index rallied 6.6 percent. The ETFs had fallen at least 20 percent in the six weeks leading up to the vote.
Bank of America Corp. led U.S. banks higher on speculation a Trump presidency could usher in reforms that ease regulatory burdens on financial-services firms
The Stoxx Europe 600 Index rose 1.1 percent, after earlier dropping as much as 2.4 percent. The volume of shares changing hands today was almost double the 30-day average.
The MSCI Emerging Markets Index slid 2.6 percent, paring losses after Trump's speech sought reconciliation and cooperation with his political opponents. Benchmark gauges in Brazil, Mexico and China slumped. Russian shares soared.
Bonds
Treasuries tumbled, with 30-year bond yields climbing the most this year, as investors assessed what a Trump presidency will mean for U.S. fiscal and monetary policy.
A bond-market gauge of inflation expectations climbed to the highest since July 2015, while benchmark 10-year yields touched the highest in eight months. Shorter-dated notes outperformed and a gauge of the yield curve steepened as traders judged that Trump's victory makes it more likely the Fed will hold off raising interest rates for fear of hurting U.S. growth.
"The long end of the curve is under significant pressure for what the market believes to be the Trump platform: protectionism, retaliatory tariffs and fiscal stimulus, all of which are inflationary and bad for the dollar," said Ian Lyngen, the New York-based head of U.S. rates strategy at BMO Capital Markets, a primary dealer.
Treasury 10-year yields climbed 11 basis points, or 0.11 percentage point, to 1.96 percent, the highest intraday level since March. Thirty-year yields rose 14 basis points to 2.76 percent, the biggest increase since December. The spread with two-year notes increased 15 basis points to 191 basis points and touched the widest intraday level since February.
Currencies
The dollar surged the most since the day after the U.K.'s vote to leave the European Union, recovering from an overnight selloff, as Trump's conciliatory victory speech calmed market participants reeling from the shock result in the U.S. presidential election.
"The speech did calm the market down," said Stephane Marie, head of foreign-exchange dealing operations at Swissquote in Gland, Switzerland. "So far, we only saw the eccentric, megalomaniac Trump and people were expecting, as was I, a very aggressive speech. But his speech was professional and presidential. It was a surprise."
A Bloomberg gauge of the dollar was set for its biggest gain since June 24, and reached the highest since March. The dollar rose 0.7 percent to 104.48 yen, and by 0.6 percent to $1.0957 per euro, having earlier plunged about 2.4 percent.
Mexico's peso tumbled to a record, sinking 9.3 percent to 20.20 per dollar. The peso acted as a barometer throughout the presidential campaign, weakening when polls swung in favor of Trump, who has pledged to renegotiate the North American Free Trade Agreement and curb illegal immigration by building a wall along the U.S.'s southern border. Analysts at Nomura Holdings Inc. and Capital Economics say the currency may fall to as low as 25 per dollar in the aftermath of his victory.
Commodities
Gold pulled back from its biggest jump since Britain's Brexit vote as turmoil across financial markets eased. Bullion for immediate delivery gained 1.9 percent to $1,300.24 an ounce by 1:18 p.m. in London, according to Bloomberg generic pricing. It earlier surged as much as 4.8 percent.
About 570,000 futures changed hands by 8:06 a.m. in New York, based on data using the most-active Comex contract. That's triple the full-day average this year and U.S. trading is just getting underway.
Copper for three-month delivery touched a 15-month high before trading up 2.9 percent at $5,355 a metric ton, leading gainers as of 11:41 a.m. on the London Metal Exchange. Mining stocks benefited. Antofagasta Plc jumped 4.2 percent and Glencore Plc 2.8 percent.
Oil was little changed after a government report showed that U.S. crude stockpiles climbed a second week.
West Texas Intermediate for December delivery fell 42 cents to $44.56 a barrel at 10:45 a.m. on the New York Mercantile Exchange. Brent for January settlement slipped 46 cents to $45.58 a barrel on the London-based ICE Futures Europe exchange.
Editors Notes:
I would remind you that this blog is produced free for the public good and you are welcome to republish or re-use this article or any other material freely anywhere without requesting further permission.
News & Views welcome always published as long as NO bad language or is not related to subject matter.
To keep online information secure, experts recommend keeping your social media accounts private, changing your passwords often, and never answering unsolicited emails or phone calls asking for your personal information. Need help and guidance visit https://acepchelp.wordpress.com and leave a comment or send a private message on Telegram @Aceone31
Ace News Services Site Links Listed Here: